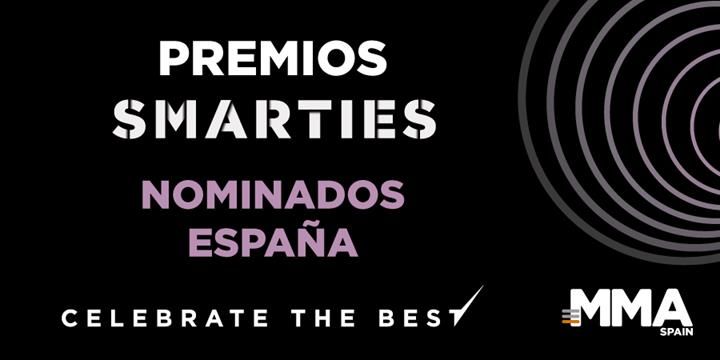 MMA Spain da a conocer el Jurado y las marcas y agencias nominadas de la II Edición en España de los Premios Internacionales de MMA, Smarties 2018, los únicos a nivel mundial dedicados exclusivamente al marketing móvil, que rinden homenaje a la innovación, la creatividad y el éxito del trabajo desarrollado en el mundo de la movilidad.
Destinados a los profesionales de marketing, agencias y anunciantes, los premios Smarties de MMA reconocen las mejores campañas y acciones de marketing, en las que el móvil es el protagonista, y que han estado activas en el mercado entre junio de 2017 y julio de 2018, habiendo logrado un desempeño destacado en los siguientes aspectos: estrategia, ejecución, creatividad y resultados.
El Jurado de esta segunda edición está compuesto por Núria Giménez, Digital Senior Manager de Coca Cola; Andrés González, CEO de la agencia Góbalo; Ana García, Digital Director Lancôme de L'Oréal; María Capilla, Market Manager Spain de Meetic y Ourtime; Félix Sanz Justel, Marketing Effectiveness Manager de Telefónica y Juan Hévia-Aza, director de Marketing y Acciones Multimedia de Vocento.
El Jurado de los Premios Smarties ha seleccionado para la "shortlist" las siguientes marcas y agencias dentro de los bloques de Marketing, Medios y Tecnología.
Bloque de Marketing
Categorías: Brand Awareness, Lead Generation/Direct Response/Conversions, Relationship Building/CRM
Dyson y Mindshare
ASICS y YDigital Media y Starcom
Zinkia y Docomo Digital
KIA y Havas Group Media
McDonald's y OMD
Barbadillo y Thinfilm
Bloque de Medios
Categorías: Cross Media, Cross Mobile Integration, Marketing within a Mobile Gaming Environment, Mobile App y Mobile Social
BBVA y Mindshare y DDB
AMBAR y Mindshare
Ford y Mindshare / GTB
McDonald's y OMD
Bloque de Tecnología
Categorías: Innovation, Mobile Audio e Internet of Things – Products in the market
BBVA y Accenture Interactive
Ceremonia de entrega de premios
La entrega de premios se llevará a cabo en Madrid el 6 de noviembre. El lugar de la ceremonia se informará en breve.
Toda la información sobre los premios se encuentra en los portales de MMA Global y MMA Spain.
MMA Global - https://www.mmaglobal.com/spain/smarties2018
MMA Spain - https://mmaspain.com/premios-smarties2018/
mma spainmmamma globalpremios internacionales de mmasmarties 2018
Fuente original: Comunicae.es.